We know that participating in a clinical research study can be a new experience for many, so we want to introduce you to some of the wonderful and kind staff that will take care of you. You've already met Dr. Sharp and our CEO Linda Schipani, and now we want to introduce you to other critical members of our team, starting with one of our leading clinical coordinators. Follow this section to get to know your research team.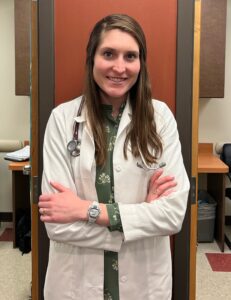 Researcher Name: Alli Sochovka, RN
Researcher Position: Study Coordinator
Education: Bachelor of Science in Nursing
What do you like best about clinical research? For me, clinical research combines the best of both worlds. I get to learn about new medical treatments every day while also being able to establish relationships with my patients ensuring their safety throughout the trial.
What has been your favorite clinical research study to work on? Definitely the COVID-19 vaccine trials. All of our volunteer patients were so excited and motivated to participate. It has been an honor being the bridge between the drug company and our patients ensuring a safe and effective solution is available to the world.
What is something surprising about you? I love being outdoors especially hunting, fishing, and hiking!
What are you most looking forward to in the new year? Getting married this month!
Ready to sign up for a clinical trial? Read about our current studies here.